Annual forecast of future trends offered by SOLUTIONS. – part of the Social Innovation Solutions ecosystem
The idea of digital transformation has grown considerably in recent years, with several organisations attempting to transform businesses during the past 2-3 years.
The acceleration of digital transformation will be the epicentre of 2023.
The polycrisis we are in (pandemic, war, energy prices) has raised new challenges for industries, businesses and governments. New businesses will emerge while existing ones will transform.
Our annual forecast of future trends for 2023 is a selection of what we consider to be some of the most promising trends to watch and discover in the upcoming year.
Future developments like digitization, new transportation, and climate change will pose significant challenges that will influence our lives in the future. This report focused on analysing trends in the field of technology, environment and sustainability, consumer trends, food and agriculture, as well as healthcare and wellbeing. This document aims to map changes in society through innovations, products, services and new ideas.
The collection of these 23 trends is a result of over 150 resources, journalistic communications, white papers and articles used and compiled in order to select what we consider to be the most relevant trends to put in sight for 2023.
The general classification of the different types of trends refers to Mega, Macro, Micro and Fads.
Megatrends are signifificant occurrences that affect all facets.
Clothing, food, exercises, hairstyles, language are all areas that are subject to fad trends, but it is not something that has to be ignored.
a micro trend normally lasts 3 to 5 years
A macro trend lasts 5 and 10 years (ioT, Big Data, Smart Homes, Machine Learning, Artificial Intelligence etc)
a mega trend (urbanisation, climate change, population shifts, technological advancement etc).
For example, social media is a trend that impacts a wider percentage of the public than a fashion trend that only appeals to a small portion of the population.
Micro and macro trends have an indirect impact on the economy and often these types of trends can have a much greater impact after these trends have already occurred.
So, the trends of 2023 were divided into several categories, as you can see below:
EVERYTHING IS SMART
1. Smart(er) Homes
2. New Age Cars
TECH FOR SUSTAINABILITY
.3. Smart Robotics
Climate Conscious Homes
CIBERSECURITY
5. Cloudifification
6. Zero-trust security
HEALTHCARE TRENDS
7. Virtual Hospitals
8. Metaverse Healthcare
9. Retail Healthcare
WELLBEING TECH TRENDS
10. Mental Health Wearabilia
11. Elevated Sleep Experience
EDUCATION & RESKILLING
12. Metacognitive Skills for Education 4.0
13. Micro and Blended Learning
CONSUMER TRENDS
14. Crypto gifts
15. Waterless beauty
16. Wearable navigation
BUSINESS & INNOVATION
17. Metaverse Game Marketing
18. Business Sisterhood
19. Eco Offifices
20. Glocalization
FOOD &AGRICULTURE
21. Techgriculture
22. Carbon Labelling
23. Agrivoltaics
EVERYTHING IS SMART
A SMARTER HOME
A new, global standard for smart homes is necessary for all the smart systems on their path to becoming a vital part of our daily lives and operating as our interface with the world. MATTER, recently announced at CES 2023, is a Wi-Fi based device standard that bundles together compatibility with Alexa, Google Assistant, Siri and SmartThings, among others, but also additional device types like robot vacuums and smart home cameras should come on board too. 
Alexa and SmartThings work together to provide Matter-powered interoperability. This enables users to add devices to both platforms simultaneously from their phones' operating system without having to authenticate them with each platforms' app separately.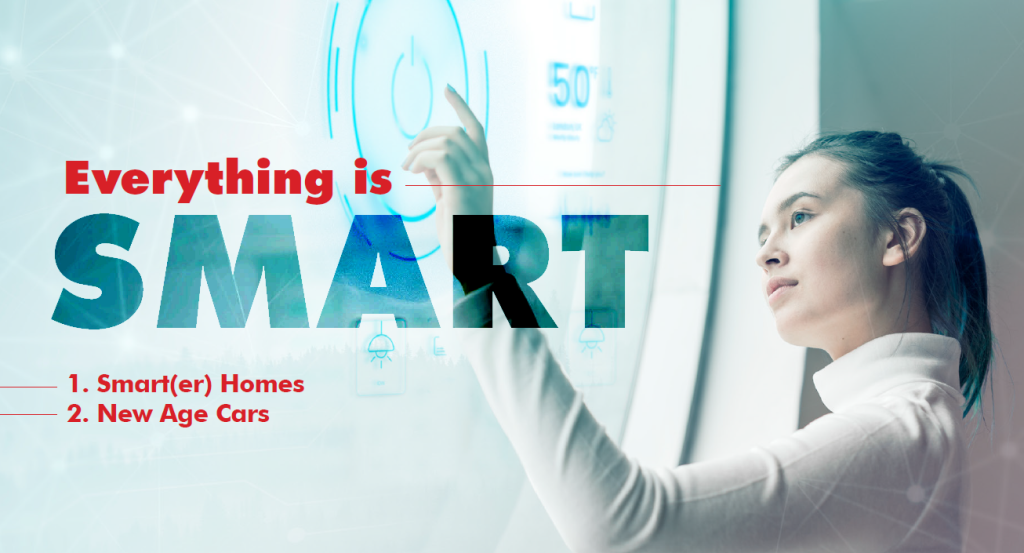 A similar action was taken by Apple, which changed its "Works with Apple HomeKit" badge to a new "Works with Apple Home" badge that includes compatibility for Matter. Smart locks, lighting, thermostats, and other devices should be easier to install and connect, and Google will upgrade many current products with Matter software updates.
The smart oven that Samsung has included in its Bespoke Home line is another intriguing development in the field of smart homes. In addition to proposing the right cooking temperatures for a variety of healthy pre-set meals, it can connect with Samsung apps to deliver suggested meal choices based on activity data and diet goals.
2. NEW AGE CAR
For sure the highlight of 2023 in terms of car innovation is the recently launched i Vision DEE from BMW. In 2022 BMW launched E INK technology that could change the colour of the iX model from white to black. This year, BMW launched i Vision DEE (that stands for "Digital emotional experience") that provides a spectrum of 32 different colours. The car also has an AR display that wraps around the windshield.
Samsung's new car system powered by Harman International includes a machine learning algorithm. ICX, the intelligent car system, uses sensors to measure drivers'-tired eyes or sleepiness. The system is expected to work with Samsung's family products like its Galaxy Watch, but it will not be mandatory to be paired with. ICX will employ driver-facing infrared or in-cabin radar to monitor the drivers' performance vital signs: when a driver appears to be pay attention to the road but his mind is actually thinking about work or other mind concerns.
Mercedes-Benz has a new Automatic Lane Change (ALC)1 feature, which enables the automobile to automatically change lanes and pass slower moving vehicles while the cruise control is engaged. Mercedes-Benz (MBGn.DE) will also deploy an advanced automateddriving SAE level 3 system in certain U.S. states. Other systems like Tesla's Autopilot or General Motors' Super Cruise are SAE Level2: it handles some driving tasks, but requires drivers to pay attention at all times.
Tech for sustainability
3. SMART ROBOTICS
Utility companies will make remarkable advancement with ACWA ROBOTICS's autonomous robotic solution: a robot that adapts inside the pipe without interrupting water delivery and gives crucial information from inside the pipes.
This helps save millions of cubic metres of water and helps communities make the most of their investments in water infrastructure.
"Robot Planter" seems to be a promise towards smart farming and a future where sensors and machine learning technologies reduce the use of chemicals and fertilisers for a less polluted earth. At Dartmouth General Hospital, a sophisticated robotics system is already in function. A more precise hip and knee surgery may be carried out thanks to the Mako Smart RoboticsTM system, which is in control of a surgeon. 
4. CLIMATE CONSCIOUS HOMES
The first 3D-printed net-zero home in the world was delivered in September 2022 by Mighty Buildings. The Quatro, a two-bedroom, two-bathroom home designed by Ehrlich Yanai Rhee Chaney Architects (EYRC), will use a flflexible, panelized kit of parts from Mighty Buildings to produce as much energy as it uses. 
Hannah, an experimental design and research studio located in Ithaca, has begun work on Cores, a building in Houston that is expected to be the fifirst multi-storey 3D-printed structure in US. With 371 square metres of living space, the home is meant to be scalable and compatible with typical timber-frame constructions.
CYBERSECURITY
5. CLOUDIFICATION
Instead of turning on more private data centres, telecommunication service providers will continue to adopt crucial IT infrastructure into the cloud, public, private, or hybrid.
In 2023, telcos will have the tendency to use the cloud to enable scalability by developing services that can be scaled back when business is expected to slow down due to external factors like cost of living or supply chain disruption. The organisations that use more than three cloud providers make use of alternative cloud providers outside of AWS, Azure, and Google Cloud.
Infrastructure as code (IaC) use has a signifificant impact on security, especially among respondents in cloud operations jobs (68% of whom claimed that IaC is driven by security improvements, compared to 48% of DevOps respondents).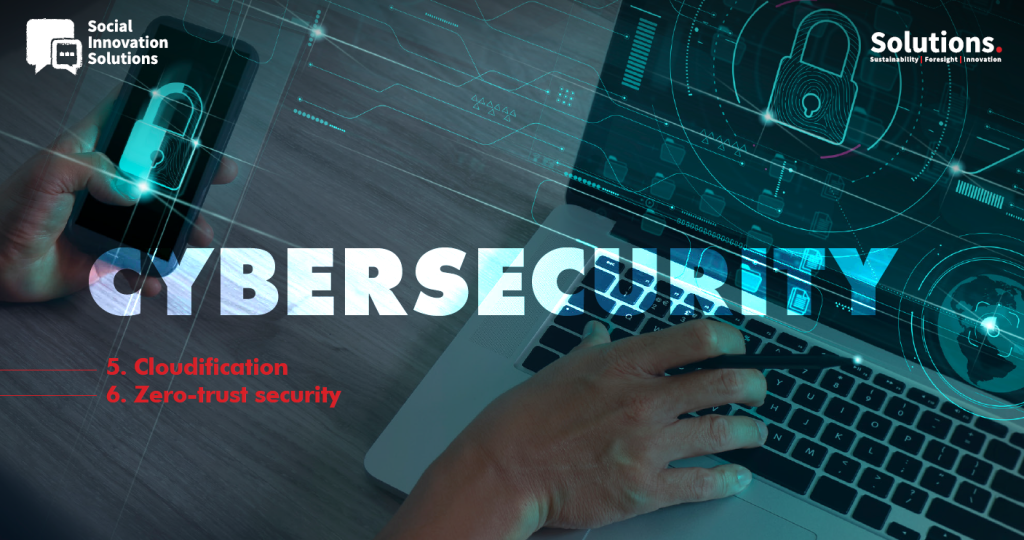 Managing cloud security is one of the most common IaC use cases, according to 69% of respondents from the DevOps and CloudOps industries that took part in 2022. IaC is essential for managing complex applications (61%), particularly for businesses that use more than 10 public clouds (72%).
6. ZERO-TRUST SECURITY
A zero-trust strategy is an entire set of solutions and practices, not just a single tool.
Through the use of identity, behavioural, and risk analytics, CrowdStrike Falcon® Zero Trust delivers smooth Zero Trust security with real-time threat prevention and IT policy enforcement.
Falcon Zero Trust allows unified visibility and management of user access to applications, resources, and identity stores, eradicating security blind spots in hybrid settings.
HEALTHCARE TRENDS
7. VIRTUAL HOSPITALS
In 2022, Norfolk and Norwich University Hospital from the UK established its own virtual ward. This way, a patient can avoid spending time in the hospital by being watched or treated at home. Pasteur's pulmonary virtual ward has its own nurses available 24 hours a day, as well as junior doctors, consultants, ward clerks, and pharmacists, as published by BMJ, the weekly medical trade journal. One of the biggest hospitals in Latin America, Albert Einstein Israelita Hospital in Brazil, will use INSIGHT CXR, an AI-based chest x-ray solution. Also, Lunit INSIGHT MMG, will implement its AI mammography solution in 2 other locations in Mongolia, at the National Cancer Center of Mongolia and the Breast Clinic of Ulaanbaatar, as well as at Hong Kong Women's Imaging Hospital in Hong Kong.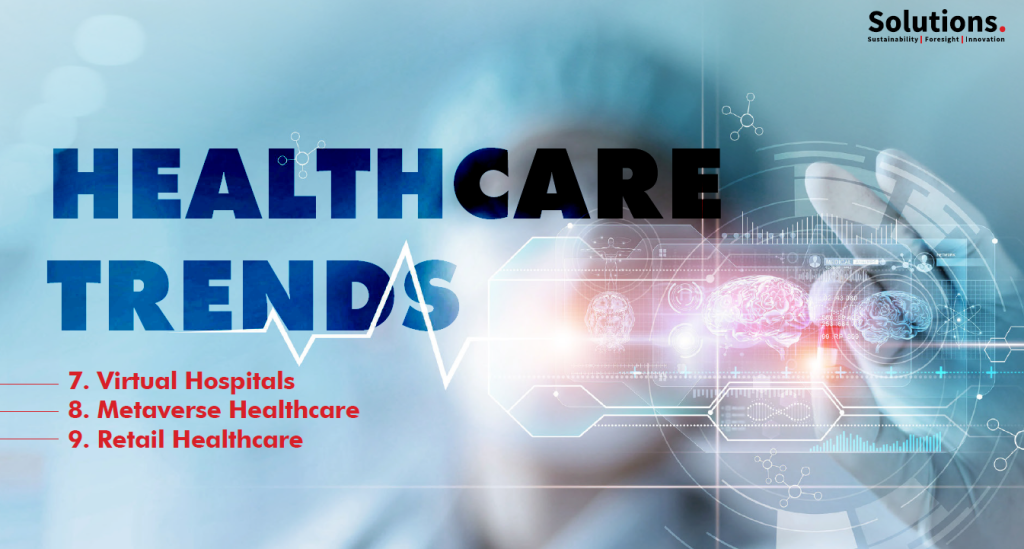 Starting January 2023, CVS launched a virtual care service that gives consumers access to primary care, chronic condition management, and mental health services. The CVC's virtual pharmaceutical services bring pharmacies and clinics to the metaverse.
8. METAVERSE HEALTHCARE
Noman Qureshi, who oversees multiple pharmacies in the Greater Toronto Area (Pharmacy Group), has partnered with Metaverse Advisory Group (MAG), a fully-owned subsidiary of iMining Technologies, to help the Pharmacy Group develop and carry out its digital and metaverse-related strategies.
For the Pharmacy Group's pharmaceutical business in the Metaverse, MAG will offer an online, AI-enabled e-commerce platform. By enabling patients to set up automated refill reminders for prescriptions that are delivered right to their homes, the first Metaverse pharmacy seeks to increase medication adherence. 
The Netherlands and UAE-based blockchain-based medical startup Aimedis uses the most recent advances in augmented reality and artifificial intelligence. Aimedis Health City is the organisation's most recent creation.
For instance, therapy sessions, consultations, doctor visits, and patient exchanges occur there, but students, healthcare professionals, and non-professionals are also trained. Users are guided around the virtual world by a dedicated AI known by the catchy name AVA (Aimedis Virtual Assistant), which also connects the Aimedis ecosystem to the metaverse.
9. RETAIL HEALTHCARE
The largest U.S. retailers committed time and resources to healthcare in 2022: retailers like Walmart, Amazon, CVS, and Walgreens have stepped in to fifill patient demands when traditional physicians lack the capacity to do the same as their consumers seek cheaper pricing and convenient care delivery.
Retailers will focus on tailoring the customer experience in healthcare to increase access and foster patient trust using new technology and methods suited to each demographic, according to George Van Antwerp, Managing Director at Deloitte Community health centres are examining the strategies used by businesses to attract customers both in-store and online. 
According to a National Association of Community Health Centers (NACHC) guide, strong consumer response to retail clinics has even Federally Qualifified Health Centers evaluating retail health from a care and economic perspective.
Patients can benefit from the retail model in ways including customer awareness, friendliness, and impressions of quality.
Wellbeing tech trends
10. MENTAL HEALTH WEARABILIA
BHeart, an activity sensor and heart rate monitor that can be worn as a bracelet or a watch strap, has been introduced by health tech company Baracoda. It has integrated solar power, so there may never be a need to remove it for charging.
THYNC helps improve the nervous system functioning through electricity. It is a wearable patch that provides benefifits related to neurostimulation and helps in increasing clarity, alertness, and energy for a short period of time.
The Apollo Neuro wearable, created by neuroscientists and doctors, employs a unique touch therapy experience to improve sleep, relaxation, and attention. The Apollo device's calming vibrations can help a person relax, focus, or calm their emotions when socialising by restoring the body's natural rhythms.
11. ELEVATED SLEEPS EXPERIENCE
LG Electronics collaborated with SleepWave Company in order to integrate brain wave technology in wireless earphones which can get people into deep sleep.
The in-ear Breeze has an accompanying mobile app that collects and analyses a user's sleep data to suggest a sleep care routine. Breeze renders the optimal frequency according to the user's current sleep state, which is detected using an EEG sensor. Through this, the earphones can also learn their sleep patterns. There are available 80 sounds specially created for this, from lullabies to nature noises.
FUFULY is a anxiety-reducing cushion from Japanese company Yukai Engineering, featuring a gentle rhythmical pulsation as the main therapeutic tool. According to Yukai, the product was created using data from University of Tokyo study. The potential of breathing to improve mental state and reduce anxiety has unquestionably been widely reported about. Breathing is specifically connected to meditation for this.
EDUCATION & RESKILLING
12. METACOGNITIVE SKILLS FOR EDUCATION 4.0
Collaborative-learning classroom, adaptability and problem solving are the 3 key skills that students of today will need for the jobs of tomorrow, according to the World Economic Forum. It may seem easy to achieve, but the existing educational systems need to be upgraded in order to properly create an environment suitable for the future.
Education 4.0. will store the education concept as a lifelong experience with teachers and mentors acting as facilitators and enablers.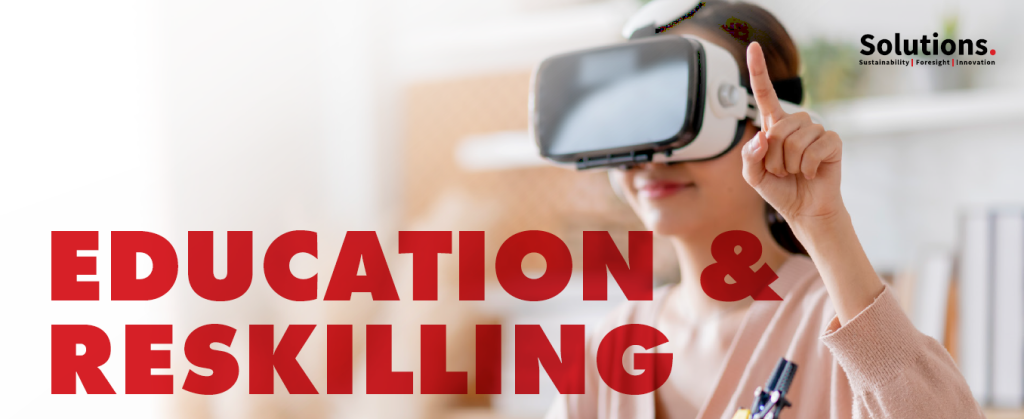 The 3 key skills students will need for the jobs of the future as identifified by WEF, needs to be mirrored with social emotional learning (SEL), a vital component of teaching holistically. In the real world, students encounter problems that are complex, not well defined, and lack a clear solution and approach.
To address these difficulties, students must be able to recognize and use several approaches: they must be able to think about achieving a particular goal and manage their mental processes.
This is known as metacognition, and research shows that metacognitive skills help students become better problem solvers. Students need to be socially and emotionally capable in order to succeed in both school and in their jobs.
13. MICRO AND BLENDING LEARNING
A blended learning course combines face-to-face education with live online training and self-paced eLearning, with the goal of making all three components complementary.
To determine learning goals or knowledge levels, for instance, students might respond to a survey prior to a face-to-face classroom session. The purpose of post-course modules is to deepen understanding, reinforce it, and get students ready for exams as a form of assessment.
Mobile learning is also another important technology learning trend that will thrive in 2023 and needs to be taken into consideration as a micro and blended learning tool.
Mobile learning gives staff members access to educational materials whenever and wherever they need it, making it a wonderful choice for businesses wishing to offer more open and interesting learning opportunities.
The market for mobile learning is expected to continue to grow significantly in the years to come. According to a 2022 report by TBRC Business Research, the mobile learning market is expected to grow at an annual rate of 32% per year until 2026.
CONSUMER TRENDS
CRYPTO GIFTS
Blockchain technology is still innovating, and more and more companies are now offering cryptocurrency-based gifts, ranging from NFT gift cards to fee-free bitcoin giving options on mobile applications. Today, there are several companies that sell gift cards for cryptocurrencies, but the recipient has to have an account in order to use the received cryptocurrency.
A gift card for the deposited sum will be provided following the payment. The client may use the gift in the same way that regular retailer gift cards can be used by going to the website and entering the details on the card.
Robinhood offers the option to send a cryptocurrency gift starting with just $1. By offering a $1 worth crypto gift the receivers can gradually increase their holdings.
NFT renting is another trending direction, with NFTs considered to be safer than conventional cryptocurrencies like Bitcoin or Ethereum. IQ Protocol is a decentralised money market for digital-asset renting and on-chain subscriptions. 
From renting avatars for games to NFT renting that allows someone to temporarily own special NFTs without buying them, the rental process can be made using a smart contract.
WATERLESS BEAUTY
The most famous so far water-free cosmetics were cleansers and hair products, but more recently, skincare companies have started their journey into waterless formulations for everything, from serums to moisturisers.
This beauty trend started in South Korea with the purpose of creating more effective skincare, but today the waterless beauty trend is more about sustainable products, from solid-form moisturisers to powder shampoos.
Powders, solids, balms, and oils, even powder products activated by mixing them with water at home, this trend is also inflfluenced by consumers that are more conscious with their choices and demand sustainable products from beauty brands.
Waterless beauty products are formulated with no water.
This proves to be even more beneficial for the skin and for the entire production process of skincare products because waterless means more active ingredients and botanical oils. Also, preservatives are required when using water in the formulation of cosmetic products because water might promote the growth of bacteria.
Preservatives can extend shelf life and stop germs from growing. Without the use of chemical preservatives, beauty products made without water are better for sensitive skin, and better for the environment.
WEARABLE NAVIGATION
This trend refers to mapping the physical world through sensors and computer vision and using phone-less Google maps navigation. Meta, Microsoft, Amazon Web Services (AWS), and Dutch mapping company TomTom joined forces in December 2022 to develop interoperable open map data.
Called the Overture Maps Foundation, the partnership aims to power new map products through openly available datasets that can be used and reused across applications and businesses.
RayNeo X2 smart glasses are augmented-reality frames that overlay your fifield of vision with all kinds of useful display information, from auto-translation to GPS navigation.
They can also integrate prescription lenses, so spec-wearers don't have to miss out. Google has announced that Wear OS 3 watches with LTE connection can access Google Maps for turn-by-turn navigation even when they are not linked to a phone, although it still needs to be connected to wi-fifi. Honor, the Chinese smartphone manufacturer and AutoNavi announced a partnership that will focus on smart travel services, smart life services, interior navigation, and wearable navigation technology. Honor smart service products will now include Honor Magic Live platform level AI and AutoNavi Maps location service capabilities.
BUSINESS & INNOVATIONS
17. METAVERSE GAME MARKETING
Businesses are stepping into the virtual world, from jewellery to shoes and cars, and are collaborating with well-known video game companies to create pop-up experiences.
While putting an emphasis on experience, the branded metaverse-based games introduce customers to the offerings of brands. 
Cryptocurrency market had a complicated year in 2022, with Bitcoin losing over 60% of its value, but the Global Metaverse in Gaming Market is anticipated to increase by 38.2% CAGR from 2022 to 2027, from USD 36.81 billion to USD 710.21 billion.
Gucci has made a series of brand activations to determine where and how to connect with Gen Z. In just two weeks after launching a metaverse replica of its physical Gucci Garden on Roblox, it attracted 19.9 million users. Additionally, Gucci revealed the intentions to develop a virtual world on the blockchain-based platform The Sandbox, collaborated with the fashion-focused metaverse Zepeto, and produced content for games like The Sims, Pokémon GO, and Animal Crossing.
18. BUSINESS SISTERHOOD
Nearly 70% of worldwide jobs and GDP come from small enterprises, which account for 90% of all businesses. Economic growth and reaching net zero are two important reasons that should motivate big companies to assist SMEs and create partnerships.
There are several successful partnerships between multinational companies and small businesses that have been shown to be beneficial for the environment and the economy. More than 180 surveys of SMEs in 32 countries have been conducted by the OECD since February 2020, and the results show that since the pandemic began, 70-80% of SMEs have seen a signifificant decline in revenues and sales.
According to a research published in December 2022 by the WEF in partnership with the National University of Singapore, SMEs and mid-sized businesses need to create plans and strategies to become more future-ready, strategies that will be key to both developed and emerging economies.
Another important factor for a sustainable future and economic growth is supporting SMEs and mid-sized companies to take part in the digital transition. An analysis by McKinsey showed that the top 10% of businesses using digital channels generate somewhere between 60% and 95% of all digital sales.
19. ECO OFFICES
In their quest to reach net-zero goals, many businesses place having sustainable offifice spaces as an important part of their strategies. However, moving into eco-offifices could be challenging and complicated by factors like cost, availability, and aesthetics. 
The Energy and Climate Intelligence Unit launched a report of quantitative analysis regarding net zero commitments across countries. The ECIU report was conducted in collaboration with Oxford Net-Zero and is based on a survey of more than 4,000 signifificant entities, including nations, states and regions in highest-emitting countries, and also cities with a population above 500,000.
Law fifirm TLT is the first to sign up for Salford sustainable office. Listed as one of the most environmentally friendly office buildings in the UK, Eden is a £36 million, 115,000 square foot, 12-story offifice skyscraper that has a roof terrace. It was built by ECF, a strategic partnership between national placemaker Muse, Legal & General, and Homes England. 
The facility was planned following the UK Green Building Council's 2035–2050 criteria and would be able to run entirely on renewable energy when it is finished.
20. GLOCALIZATION
A better balance between global and local, so-called glocalization, would offer the best of both worlds. Both the epidemic and the conflict in Ukraine served as wake-up calls that forced governments to reevaluate what is essential for the health of their economies. And businesses had to reconsider their value chains. Access to foreign markets and the global economy both encourage competition and innovation. But producing near to consumers spreads prosperity and builds stronger, more sustainable economies. So how can the balance between global and local be achieved?
McDonald's glocalises its products around the world: from selling kosher Big Macs without cheese in Israel to offering mostly chicken, lamb, and vegetarian in India to Hindus who don't eat beef but also McArabia Chicken—a pita sandwich with two grilled chicken or beef. McDonald's recognized how food is a part of people's culture and glocalized their brand and products accordingly, expanding into about 120 countries and 37,000 global franchises. But glocalization is not just marketing.
The term 'glocalization' is adapted from the Japanese term "dochakuka" translated as "localization of the global".
FOOD AND AGRICULTURE
21. TECHGRICULTURE
VoloDrone is a large spraying drone developed by John Deere and Volocopter. With 18 rotors and a 9.2 m diameter, the huge drone has a fully electric drive with replaceable lithium-ion batteries. 
A flexible, standardised cargo attachment mechanism is included into the drone frame that allows the application of several. The huge drone has two liquid tanks, a pump, and a spray bar for crop protection. Low flying altitude makes it possible to cover a very broad area quickly—up to 6 hectares each hour.
See & Spray technology uses high-resolution cameras capable of taking 20 photos per second. The technology distinguishes between cultivated plants and weeds based on the photos and artificial intelligence so that each plant may receive a customised treatment. The usage of pesticides may be significantly decreased with the help of this new generation of weed control.

Sursa foto: Social Innovation Solutions (SIS)
22. CARBON LABELING
Even if there are several methods for determining a product's carbon footprint, it is dishonest to claim that a product is carbon-neutral due to the complex aspects of manufacturing or supply chain implications. EDIE Sustainability Leaders Forum made an index of companies that have already committed to label products for their impact on the environment.
Some of the largest product retailers UK food have piloted since June 2022, a new eco-labelling scheme for their products. Nestle, Sainsbury's, M&S, Costa Coffee, Tyson and VeeTee Rice are among the fifirst to enrol in this pilot program based on an implementation scheme constructed by a non-profifit organisation Foundation Earth, initiative for which researchers from WWF and from Oxford University have documented the system of labelling, which is probably one of the most complex systems in the food sector.
One of the first companies to engage in labelling the climate footprint of their products was Oatly, a Swedish manufacturer of oat-based alternatives to dairy products. Oatly measures the climate impact of goods and raw materials purchased for production. The medium score of Oatly providers indicates a stronger overall performance as compared to the Ecovadis database. Each product produced in place X has a higher climate cost due to energy sources, transportation, and the location. 
23. AGRICOVOLTAICS
With focus on sustainability and energy cost effificiency, we will start to see photovoltaic panels everywhere in 2023. Global PV panel market size was valued at 180.4 billion dollars in 2020, and is expected to reach 641.1 billion dollars by 2030, registering a compound annual growth rate of 11.9% (Solar PV Panel Market Growth, Trends & Regional Forecast-2030, n.d.).
Solar power appears to be an easy solution in areas where energy security presents signifificant challenges and where sunshine is abundant. Agrivoltaics is the simultaneous use of land for growing crops and generating electricity with photovoltaic panels. But massive PV panels arrays have an impact on local ecosystems due to the fact that land must be cleared to expose the soil in order to install it.
This has an effect on the sustainability of the land, altering the biodiversity, carbon sequestration, soil stability, and water retention.
Additionally, there is frequent rivalry for land, which is necessary for the production of food.
Solutions. supports entrepreneurs, companies and decision-makers to better understand the challenges and opportunities of the future. We offer consultancy and education in forecasting, trends, sustainability and circular economy.
Some of our previous reports are Automation for Good October 2022 Report supported by UiPath, Hydrogen Futures in Romania December 2022 Report supported by E.on, Sustainable Packaging December 2022 Report supported by FAN courier, Romania 2030 Climate Scenarios as a result of a foresight exercise carried out in Romania in September 2022 at the Government Palace, with over 160 key stakeholders from business, civic and public ecosystems, with the aim of exploring plausible and preferred climate scenarios for 2030.
Solutions. is part of the Social Innovation Solutions ecosystem. The mission of Social Innovation Solutions (SIS) is to support individuals and organisations to understand the transformations of the future and to develop sustainable technology, public policy and entrepreneurial solutions. SIS organises several incubators and accelerators in Romania and Central and Eastern Europe, such as Future Makers,
TRANSFORMATOR, Academia de Sustenabilitate, and Games of Science, working with over 100 start-ups every year. Also, SIS develops several conversation platforms about sustainability, future trends and circular economy such as Future Summit, Sustainable Futures or Climate Change Summit and offers consulting and executive education programs in foresight, innovation and sustainability.